I was asked today about looking at a local flower shop's SEO. I rarely do client work anyway and looking at this market reminds me why. I have absolutely no interest in flowers. Thats going to make working on a site hard to start with.
The other problem is that a lot of websites aren't designed with SEO in mind. Optimising a website with little text on the homepage is tough. You have to do little tricks like put big paragraphs of text at the bottom of the page to give Google something to read.
The rest of this post will be just what I replied to this person who enquired about the SEO work.
I've taken a quick look at the results pages and the most obvious term is 'flowers sheffield' If you type that in to google, there isn't a single organic results above the fold on the most common screen resolution. The most common screen resolution is 1366*768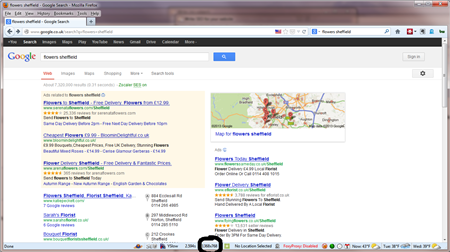 If you look at the search volumes, you'll see that not many people actually search for that term either (https://adwords.google.com/o/KeywordTool see there and select exact match)

You're looking at 5 searches a day on average. Even being number 1 on the natural listings for both, I can imagine you'd get less than 10 visitors a month for those terms as no one likes to scroll. You'll potentially get traffic for related terms, eg, flowers sheffield same day delivery but the volumes will be small. I can't see SEO being able to drive much traffic.
Your other options are the google places or adwords. Places is pretty simple. www.google.com/placesforbusiness/ sign up there. You'll get a card with a pin in it that is used to verify the place. Once you have that, make sure your profile is 100% complete and get plenty of legitimate reviews.
Adwords is simpler but not really cost effective. Looking at who is advertising, they are all big national companies. I can see them out bidding any local retailer with their bigger margins and ability to justify ad spend on branding.
If I was you, I'd get the local business stuff right and then ask a few SEO companies what they'd do and for what cost. Ask them about the traffic you'd expect, what exact keywords they'd target and what techniques they'll use to get you backlinks. Back links changed a lot since last year when Google sent out a load of 'unnatural link' warnings and then battered people with Penguin.
If you get a few proposals together, I can tell you what I think but to be honest, SEO for certain industries is grim. I can't see anyone that really knows what they are doing being bothered with such a small but competitive market. Google has made local SEO a lose/ lose for client and agency.
Obviously if someone held a gun to my head I could do local SEO but with all the crap Google put on the SERPS pages its value is dubious. Assuming I can get to number 1 without getting slapped by Penguin, I think I'd find the value of being number 1 is so small, its not worth it.